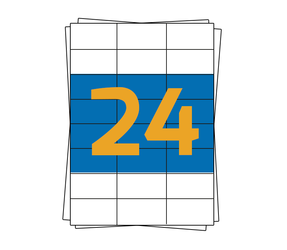 Price starting from €6.36 Per unit Excl VAT
24 per sheet
permanent adhesive
70mm x 37mm
100 pack
Herma 4453 compatible labels are A4 standard sheet labels that come in the model of 24 labels per sheet. These Herma 4453 labels are made of 70 grams of white paper. The backing is 55 grams.
These A4 Herma 4453 sheets have a permanent adhesion and are made of chlorine-free, bleached paper. These sheet labels are suitable for all inkjet printers and laser printers and copy machines. There are 100 sheets in one box unit, with a total of 2400 labels. They have the dimension of 70mm x 37mm.
Order Herma 4453 labels online at Zolemba!
Herma 4453 labels are available from stock. Are you searching for a label you can not find on the website? Zolemba also produces customized labels for you.
| Quantity | Discount | Per unit |
| --- | --- | --- |
| < 10 | 0% | €7.95 |
| from 10 | 5.03% | €7.55 |
| from 50 | 10.06% | €7.15 |
| from 100 | 20% | €6.36 |
Delivery within 6 working days
Free shipping from: € 450,-
In house production
Satisfaction guaranteed
Over 90.000 satisfied customers
Specifications
Brand
Quantity per box
Compatible with
Laser Printer
Inkjet Printer
Applications