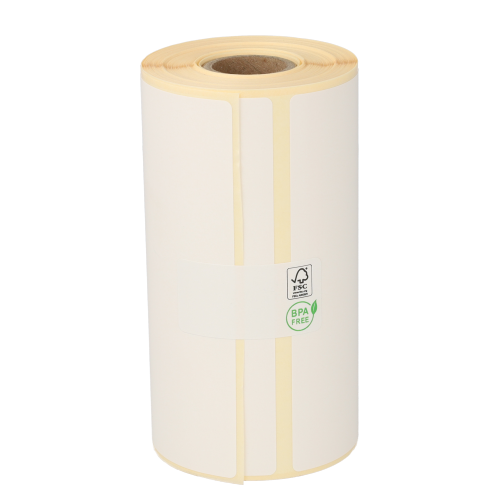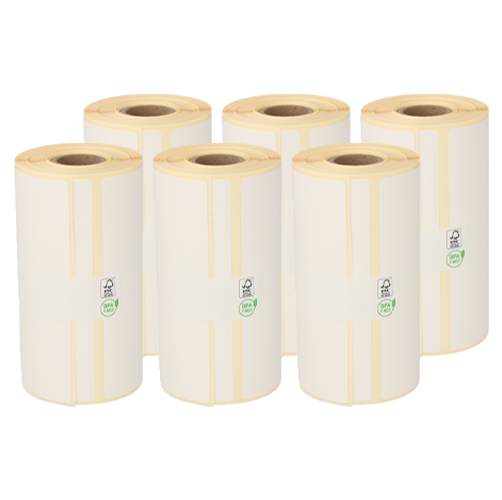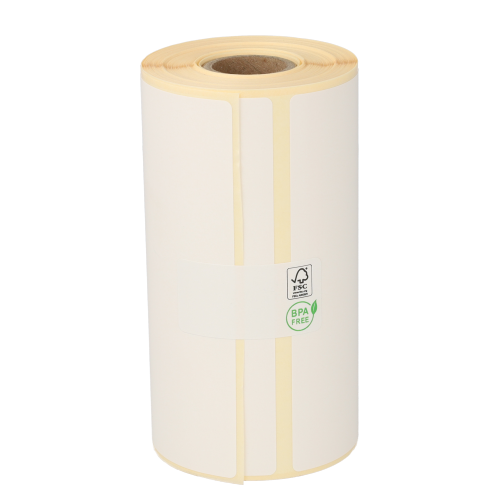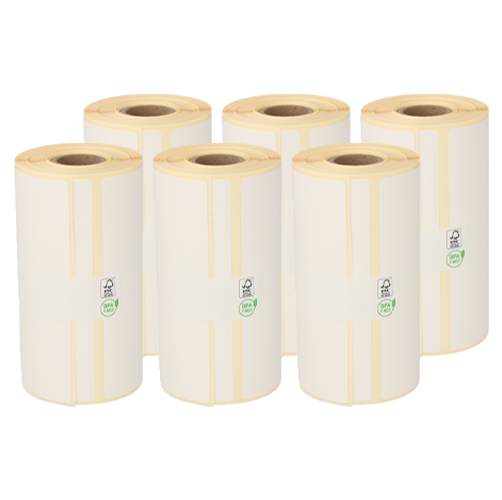 Price starting from €3.36 Per unit Excl VAT
Paper of sustainable origin.
102mm x 51mm (4 x 2)
300 labels
permanent adhesive
Direct thermal (top)
19mm core
Zebra 3003076 compatible labels for mobile printers. Ideal for printing shipping labels directly in the warehouse. Also great for other mobile print solutions. Label dimension of 102mm x 51mm (4' x 2'), 19 mm inner core. Produced on white, top, thermal paper with permanent adhesive.
The Zebra 3003076 compatible label with the label dimensions of 102mm x 51mm (4' x 2') on an inner core of 19 mm. These labels are made of white thermal material and have a permanent adhesive strength. This label model is prepared on an inner core size of 19mm. Knowing the inner core size of your label roll is an important factor for your mobile printer. Every printer, whether mobile or desktop, has its own specification requirements with regard to the core. 19mm is suitable for mobile Zebra label printers.
Thermal material is ideal for thermal capable printers such as the Zebra QL420 printer. Thermal labels create text through heat from the printhead of a thermal printer. This means that ink, tape or ribbon is not necessary. The Zebra 3003076, 102mm x 51mm, compatible labels are often used as shipping labels. 
Easily order compatible Zebra 3003076 labels at Zolemba
Do you need new Zebra labels? Forget the pricey, original products. Order with Zolemba to get the same great quality but with a much better price.
| Quantity | Discount | Per unit |
| --- | --- | --- |
| from 12 | 0% | €3.58 |
| from 36 | 2.23% | €3.50 |
| from 72 | 4.19% | €3.43 |
| from 144 | 6.15% | €3.36 |
Delivery within 6 working days
Free shipping from: € 450,-
In house production
Satisfaction guaranteed
Over 90.000 satisfied customers
Specifications
Print Technique
Material
Printer Type
Zebra ZD420D
Zebra GK420D
Zebra ZD220
Zebra QL 220 (plus)
Zebra QLn 220
Zebra QL 320
Zebra QL 420 (plus)
Zebra QLn 320
Zebra QLn 420
Zebra ZQ110
Zebra ZQ220
Zebra ZQ310
Zebra ZQ320
Zebra ZQ510
Zebra ZQ520
Zebra ZQ610
Zebra ZQ620
Zebra ZQ630
Label Series
product.attribute.product-code-same-as
Maximum Roll Diameter
Applications
Office labels
Warehouse labels
Post labels
Package labels
Shipping labels